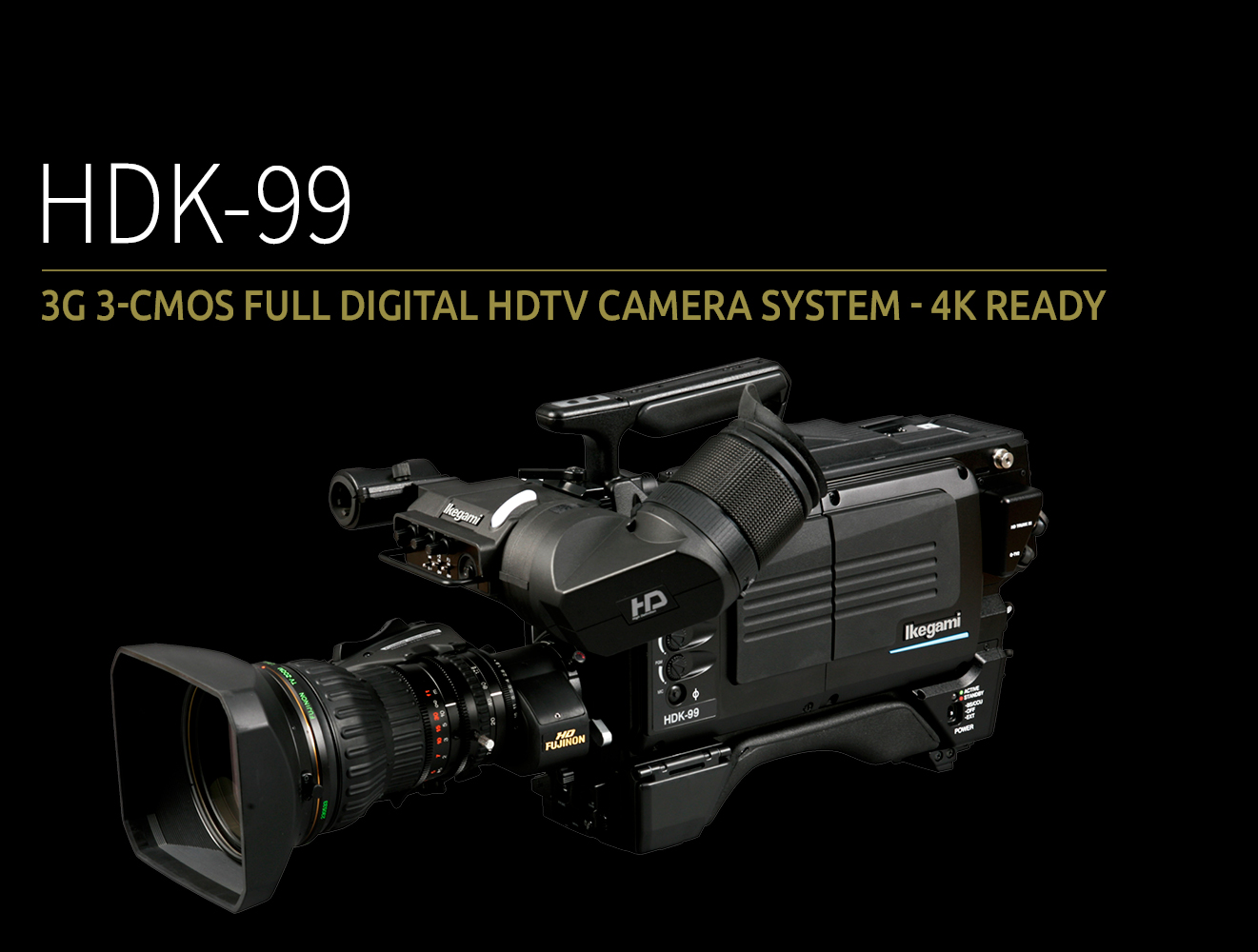 Ikegami's HDK-99 employs 2.6 Mega pixel 2/3-inch 3CMOS image sensors, achieving superior quality HDTV video with a horizontal resolution of 1000TVL, a SNR of 62dB or more and a sensitivity of F12(1080i50).
Newly Developed High Performance 3x Full HD 2/3-inch CMOS Sensors
Multi-format
Supports high-bandwidth 3G-SDI (1080p59.94/50Hz) video output
HDR (High Dynamic Range)
4K Ready
Next Generation High Speed Video Processor AXII
2 times slo- motion (1080i 119.88/100Hz)
16-Axis Color Correction
You want further information?
Feel free to contact us.
Service-Hotline: +49 (0) 2131 1230
E-Mail: broadcast@ikegami.de
Contact Form

NEWLY DEVELOPED HIGH PERFORMANCE FULL HD 2/3-INCH CMOS SENSORS
The HDK-99 utilizes three 2/3-inch 2.6 mega pixel CMOS sensors, each capable of capturing full HD 1920 x 1080 resolution images and a wide dynamic range of more than 600% and giving you an excellent sensitivity of F11 (60Hz) / F12 (50Hz), high signal-to-noise ratio and modulation depth.
MULTI-FORMAT
The camera supports various HDTV formats of 1080p (59.94/50Hz), 1080i (50/ 59.94/ 119.88/ 100Hz), 1080p (29.97/25Hz) and 720p (59.94/50Hz), achieving flexible picture representation.
HIGH-BAND VIDEO OUTPUT
The camera supports 3G-SDI 1080p (59.94/50Hz) wide-band video output as a standard feature for higher picture quality. Single and dual link output is available with CCU-980/BS-98 camera control unit/base station supporting 3G-SDI signals.
HDR (HIGH DYNAMIC RANGE)
The HDK-99 provides an HLG (Hybrid Log Gamma) mode, conforming to ITU-R BT.2100 which is an international standard for HDR. It is now possible to expand the range represented from dark to bright, providing superb bright pictures with High Dynamic Range, and also achieves rich colors with wide color gamut. Hybrid Log-Gamma and various kinds of gamma curve can be flexibly set by users.
4K READY
An optional board for CCU-980/BS-98 provides a 4K output from a 2K source and is the ideal solution for an affordable transition from HD to UHD production.
NEXT GENERATION HIGH SPEED VIDEO PROCESSOR AXII
Ikegami has developed a new processing engine, AXII, for our next generation HD, 4K, and 8K cameras. This ASIC can perform high speed processing of super high resolution video signals in various formats and frame rates. The HDK-99 utilizes this new processor, making it possible to deliver high quality, high reliability and low power consumption. The camera is also capable of 16-axis color correction and an improved focus assist function.
2 TIMES SLO-MOTION
Switchable for live and slo-motion picture with one camera. It is possible to get a slo-motion picture without changing the camera position. (Option)
16-AXIS COLOR CORRECTION
The color matrix function enables precise color adjustment for all occasions. 16 axes of the color gamut can be fine turned in both hue and saturation. This function works in real time and is extremely beneficial for live multi-camera applications.


DOWNLOAD UNICAM HD CATALOG 2022

(3.3 MiB)