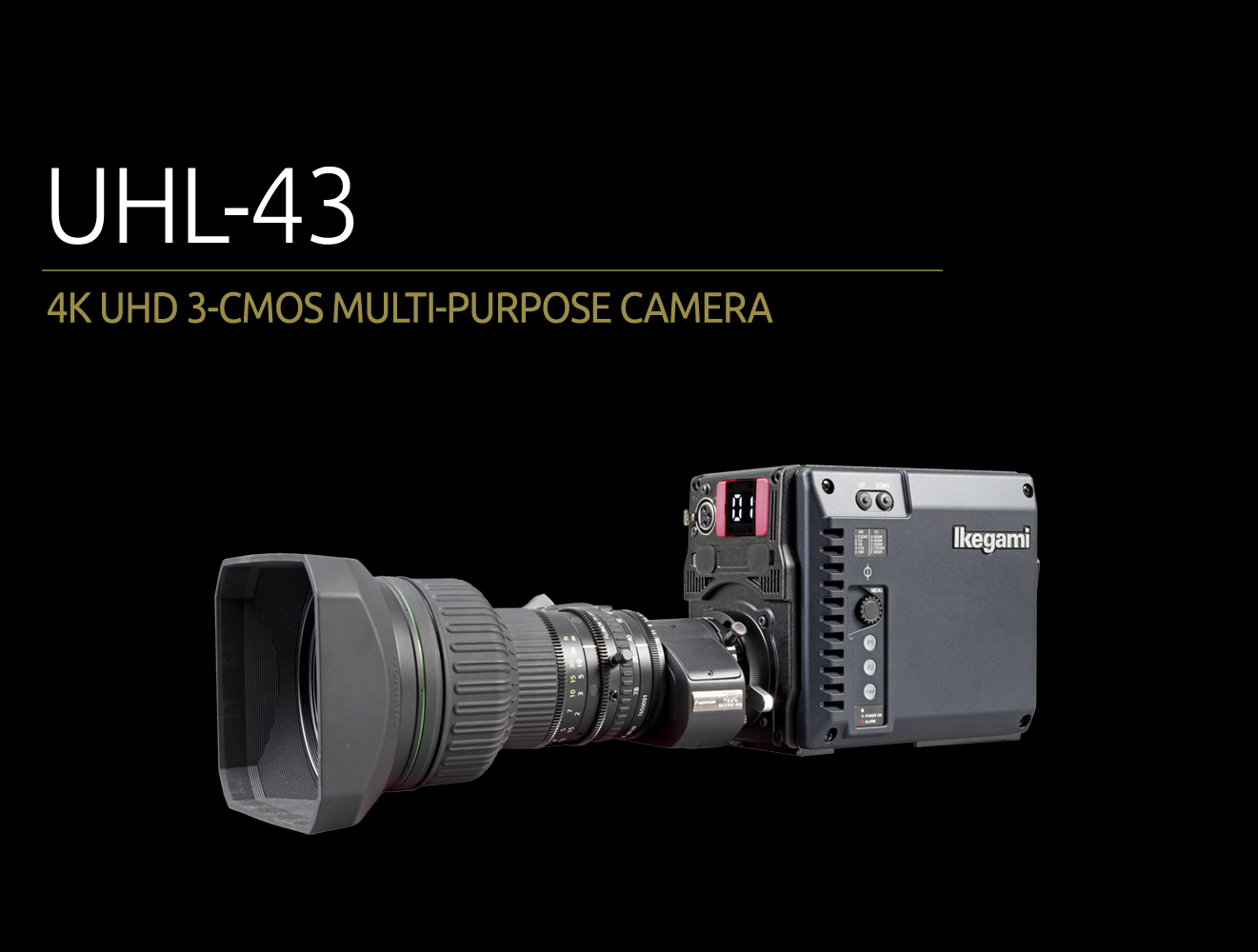 The UHL-43 is a one-piece Native 4K Ultra High Definition Digital Multi-Purpose Camera, employing the same sensors as the UHK-430/435 "UNICAM XE" series cameras, as well as an equal operational workflow. Due to its compact one-piece form factor, it supports various POV applications such as steady cam, flash and other robotic operations, as well as a wide range of surveillance applications. Moreover, the camera provides various kinds of 4K main output including 12G-SDI, 3G-SDI Quad Link (option) and 12G Optical interface (option), realizing flexible 4K system integration. HD-Downconversion and HD-Cutout signals are available as standard.
True UHD Resolution with three 2/3-inch 4K-native CMOS sensors
HDR High Dynamic Range support (HLG, S-Log)
Sensitivity of F11 @ 4K / 50 p
4K/HD Output
12G-SDI interface as standard
3G-SDI Quad Link (option)
Optical Fibre Output (option)
You want further information?
Feel free to contact us.
Service-Hotline: +49 (0) 2131 1230
E-Mail: broadcast@ikegami.de
Contact Form

True UHD resolution with three 2/3-inch 4K-native CMOS sensors
The UHL-43 incorporates three 2/3-inch 8 megapixel CMOS sensors, each capable of capturing 4K-native 3840 x 2160 resolution images. It offers high sensitivity (F11 in 4K/50p) and very high signal-to-noise ratio. Unlike cameras using a single chip or pixel-offset technology, the three 4K-native CMOS sensors and prism optics provide real UHD resolution, superior color reproduction and no color aliasing.
HDR High Dynamic Range
The camera provides an HLG (Hybrid Log Gamma) mode conforming to ITU-R BT.2100 which is an international standard for High Dynamic Range. HDR enables the UHL-43 to deliver superbly detailed picture quality across the full range of brightness levels from deep black to peak white. With it's wide color gamut, the camera also captures rich color.
4K/HD output
In addition to native 4K, the UHL-43 can deliver HD/3G-SDI signals for main output. This can be down-converted from the full 4K image or sourced as an HD cut-out HD from any section of the 4K original. *3G-SDI Quad Link output is option.
Various Interfaces
The camera has been designed to support 12G-SDI output interface as standard, as well as optionally available solutions like 3G Quad Link. This ensures flexible support for future trends in 4K system integration.

DOWNLOAD CATALOGUE UHL-43

(289.1 KiB)