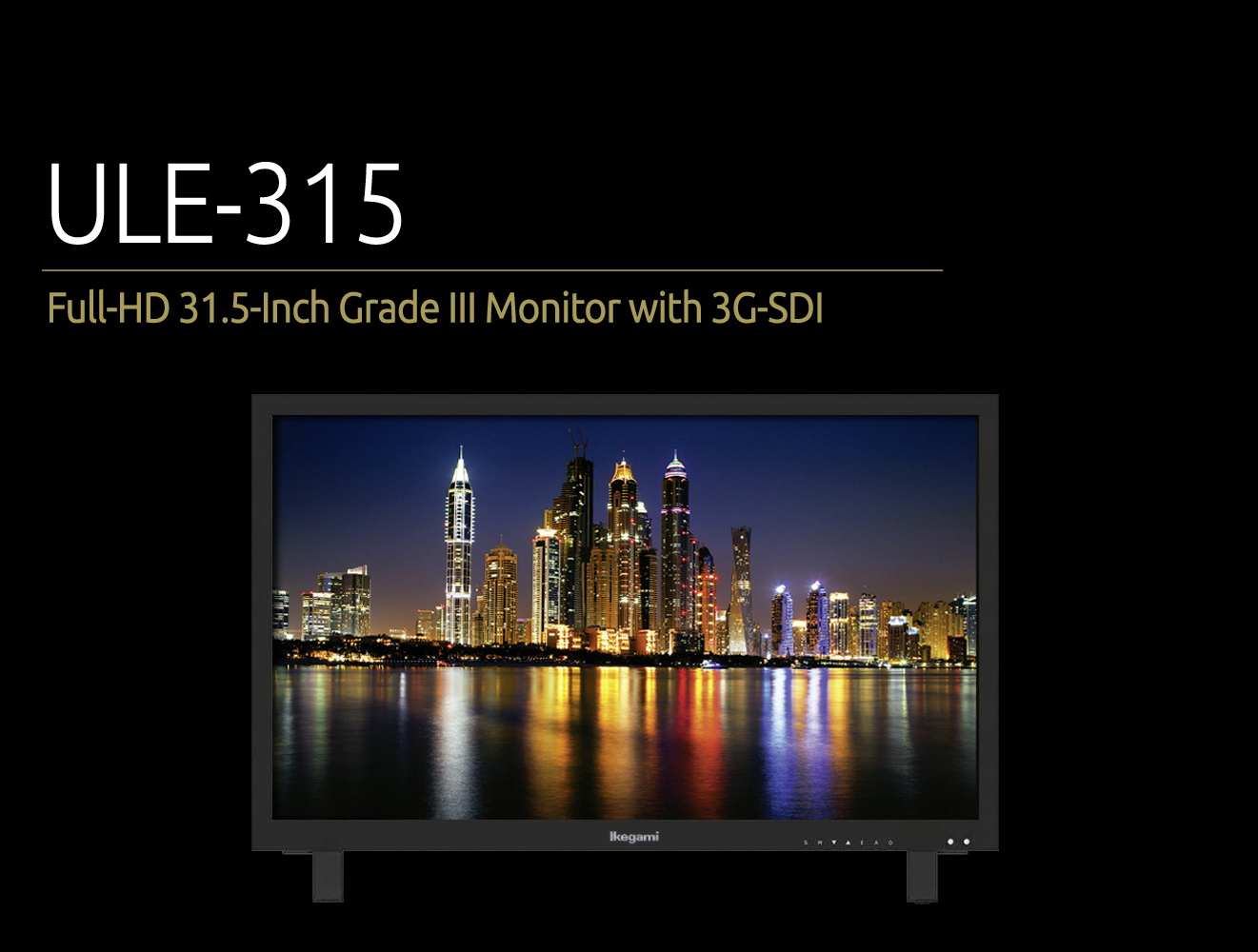 After many successful years of providing the broadcast industry with its cost-effective ULE-Monitor series, Ikegami now adds a brand new 31.5 Inch model to their current HD monitor line-up.
The ULE-315 is a professional multi-purpose Full-HD monitor with a variety of in- and outputs ranging from 3G/HD-SDI over HDMI and DVI to Analogue Component-Input.
Many convenient features such as 16 Audio-Meters for embedded audio, built-in speakers, markers and pixel-by-pixel mode are featured as standard. To ensure a precise and consistent image quality, the ULE-315 can be color calibrated with measuring probes of established manufacturers.
The low weight, compact dimensions and standardized VESA mounts make the ULE-315 the ideal solution for professional broadcast installations at a reasonable price.
Full-HD 3G multi-format LED monitor
400 cd/m² Luminance, 4000:1 Contrast
3G/HD-SDI input/output
HDMI, DVI, Component input
Support of various input formats incl. 2K/HD/SD
16 Channels Audio-Meter for embedded audio
Built-in loudspeakers
RS-422 (RJ45) interface
Support of external calibration probes
Markers / Safety Area / Corner
Blue / Mono Mode
Zero Scan / Overscan / Pixel-by-Pixel
You want further information?
Feel free to contact us.
Service-Hotline: +49 (0) 2131 1230
E-Mail: broadcast@ikegami.de
Contact Form


DOWNLOAD PRODUCT BROCHURE

(2.6 MiB)