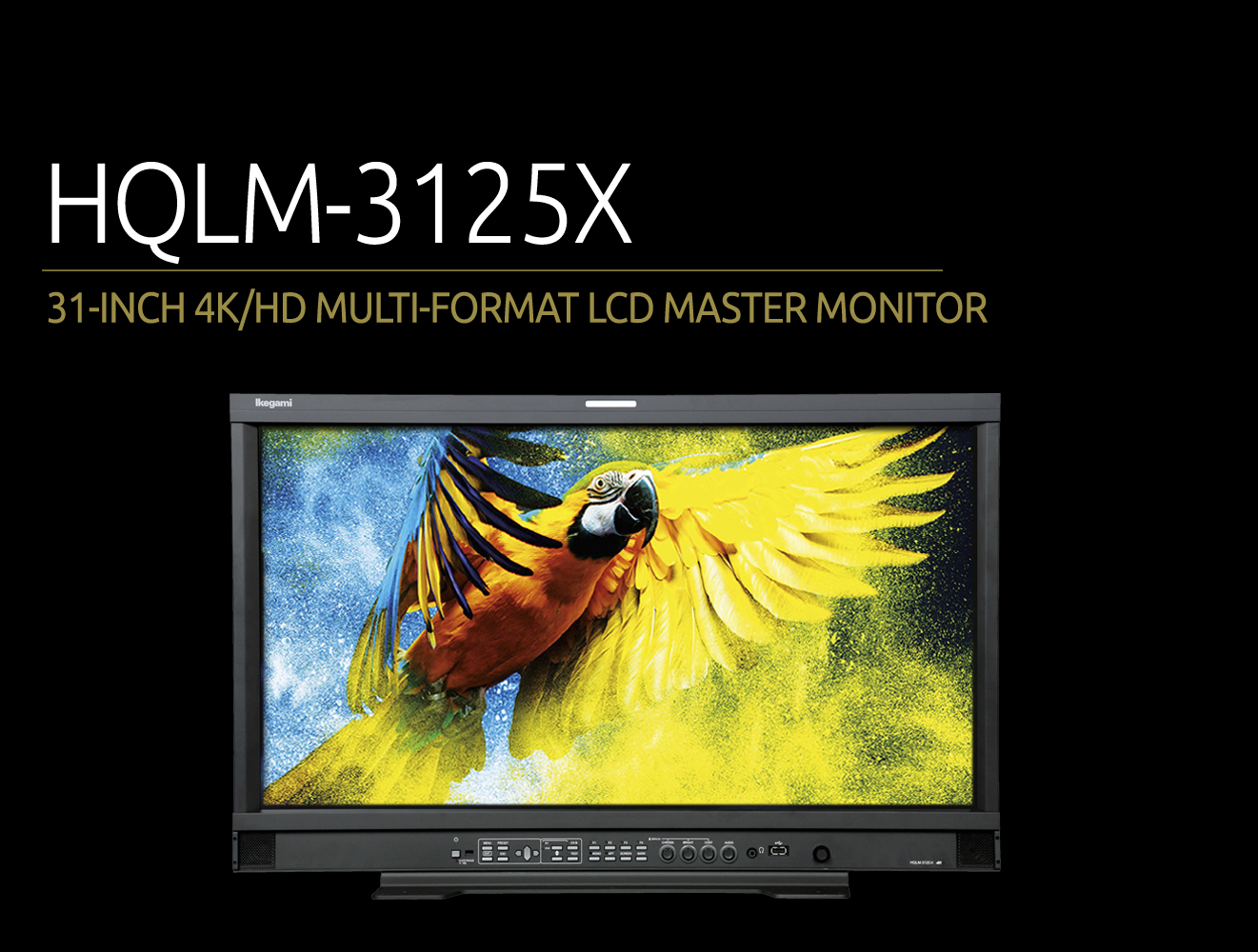 The HQLM-3125X employs an LED-backlight 4,096×2,160 pixel 10-bit resolution UHD LCD panel with a contrast ratio of 1,000,000:1. Single-channel 3G-SDI×5, 3G/HD-SDI and HDMI inputs are available as standard features. When it comes to 3G-SDI×4, square-division and two-sample interleave are available. For other 4K equipment, a dual-channel 12G-SDI input is also available. A wide critical viewing angle of 178°(horizontal/vertical) allows users to see accurately displayed images from any angle. HQLM-3125X can also display test signals such as video waveform and display vertical interval time code. Additional broadcast related functions include an 8-channel embedded audio and closed caption displays.
Diverse Input Signal Formats
UHD LCD Panel
Faithful Color Reproduction
Supports Audio Signals
Variety of Useful Functions
You want further information?
Feel free to contact us.
Service-Hotline: +49 (0) 2131 1230
E-Mail: broadcast@ikegami.de
Contact Form

DIVERSE INPUT SIGNAL FORMATS
Available with 12G-SDI, 3G-SDI (SQD/2SI), HD-SDI and HDMI (HDCP2. 2) inputs as standard. *Note: SQD=Square Division / 2SI=2 Sample Interleave:
UHD LCD PANEL
It employs a 31.1-inch 4096x2160 pixel UHD LCD panel with a contrast ratio of 1,000,000:1 (1,000cd/M2) using LED backlight. The monitor has a wide viewing angle allowing critical content evaluation within a horizontal or vertical viewing angle of up to 178 degrees.
FAITHFUL COLOUR REPRODUCTION
It provides a wide color gamut corresponding to the ITU-R BT.2020 Standard.
*Color space can not be fully displayed.
SUPPORTS AUDIO SIGNALS
Audio output is available through internal stereo speakers, stereo headphone jack and stereo l ine out by automatic identification of embedded audio signals multiplexed into the SDI or HDMI signal . An embedded audio level meter can be displayed on screen as standard. *Note: The output can be selected from a pair channels or a 5.1 channel down mix.
MULTI-VIEWER
There is an available multi-display for up to 4 screens when inputting HD-SDI or 3G-SDI signals.
TIME CODE
Time code (VITC/LTC) multiplexed into the HD-SDI signal can be displayed on the screen.
REMOTE CONTROL FUNCTION
The monitor can be controlled with the use of a parallel, serial, or wireless remote controller.
WFM/VSC
Waveform and Vector displays are available on screen.
TEST PATTERN
A variety of test patterns are built-in.
USB MEMORY
Various data such as menu, preset and captured image can be stored and copied in a USB memory.


DOWNLOAD MONITORS CATALOG 2019

(4.9 MiB)