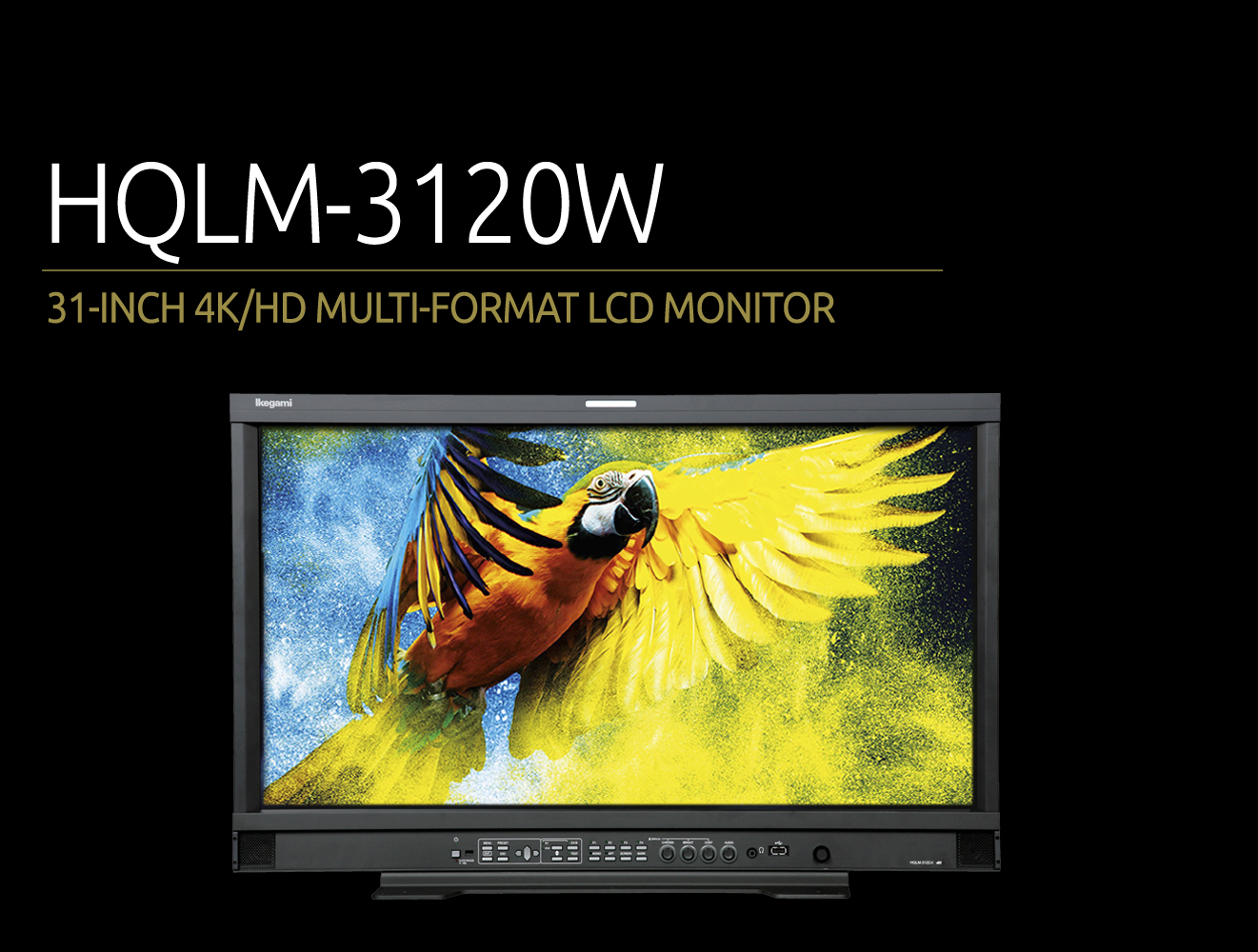 The 4K HDR video monitor HQLM-3120W is equipped with 2 channels of 12G-SDI input/output as standard for efficient configuration with 4K equipment such as cameras and switchers. In addition, this monitor includes 3G-SDI, HD-SDI and HDMI inputs/outputs as standard. It has the flexibility to work with various interfaces in the image production field. By employing a 31.1-inch 4096×2160 pixel UHD LCD panel using LED backlight, it can reproduce high resolution 4K and 2K images.
Convenient features such as Multi-Viewer-Screen, Side-By-Side Video, Audio Meters, User Markers and R/G/Y Tally make the Ikegami HQLM monitor series the ideal companion for broadcast productions.
Supporting various EOTF tables (HLG, PQ, S-Log, …) and Wide Colour Gamut BT.2020 as well as conventional BT.709, the HQLM-3120W is the ideal solution for UHD and HD productions.
Diverse Input Signal Formats
UHD LCD Panel
Faithful Color Reproduction
12G-SDI and 3G-SDI In-/Outputs
Compatibility with embedded audio
Built-in Marker Function
User Marker Display Function
Shadow Function
Remote Control via Ethernet or RS-485
Various built-in Test Signals
Waveform Monitor/Vectorscope Display Functions
Timecode Display Function
HDR mode and colour space setting by Payload ID
Dot-by-Dot Display Function
Multi-Viewer-Screen and Side-By-Side Picture Mode
Auto Setup with supported probes (Konica Minolta CA-310/-410, Klein Optical Instruments INC K10-A, Jeti Technische Instrumente GmbH Specbos 1211-2)
5.1ch Surround Down-Mix Output
Image & Test Signal MIX Functions
IMD/UMD: TSL V3.1 & V5.0 Support
You want further information?
Feel free to contact us.
Service-Hotline: +49 (0) 2131 1230
E-Mail: broadcast@ikegami.de
Contact Form

DOWNLOAD MONITORS CATALOG 2019

(4.9 MiB)

DOWNLOAD RATINGS/PERFORMANCE

(2.1 MiB)