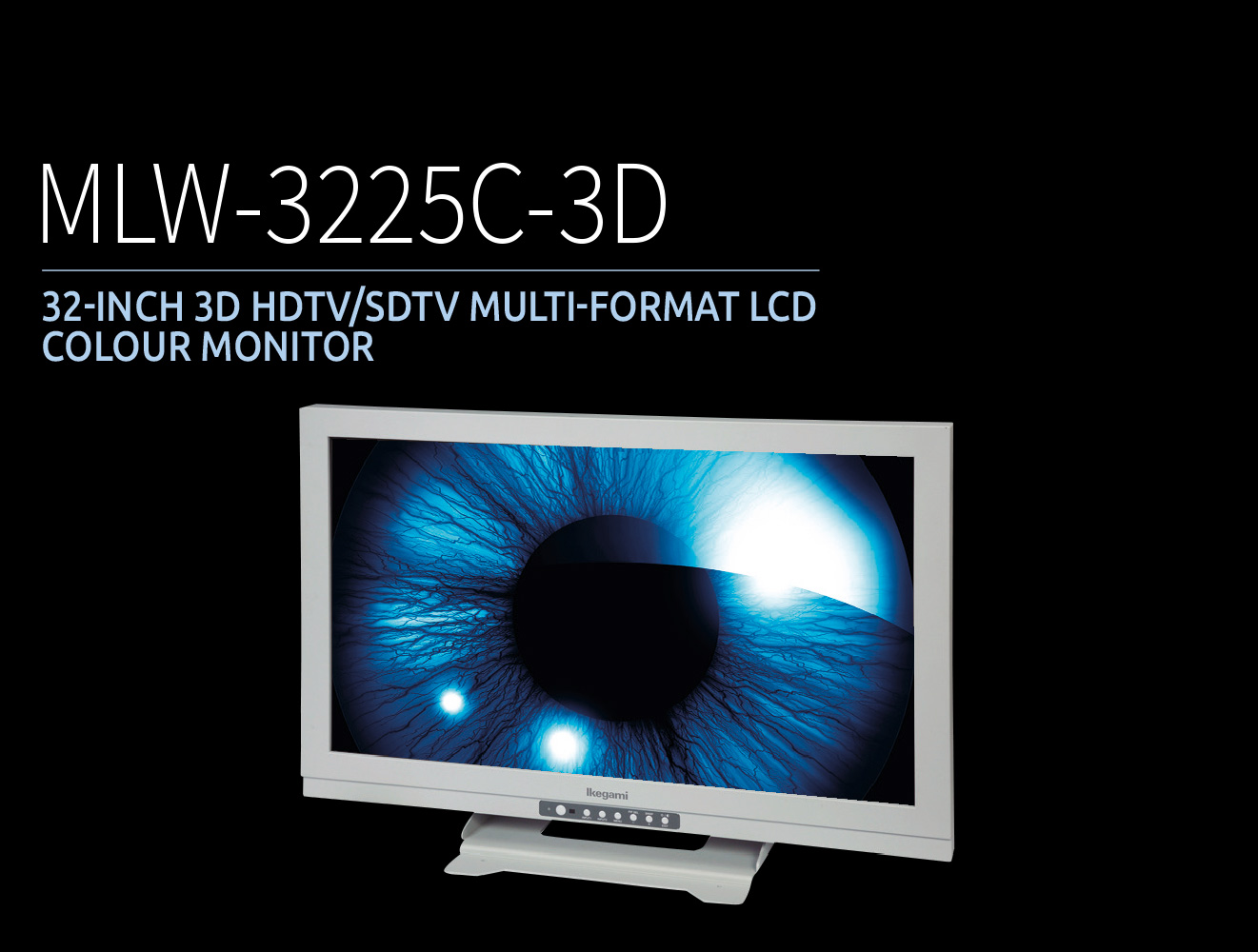 MLW-3200C series are large Widescreen 32-inch LCD Monitors with the high resolution 1920 (H) x 1080 (V) Full-HD LCD Panel, 1 Billion colour graduation (10-bit x 3-Colour) and wide angle of 178 degrees. MLW-3225C-3D is the latest development for surgical operation 3D monitoring systems.
Fully compliant with medical safety directives
High Resolution, True Colour Displays
32-inch Widescreen Full-HD LCD Panels 1920 (H) x 1080 (V) Pixel
Jaggy-less I / P Conversion Process
Multiple Input and Format Capabilities
Various Gamma Characteristics
Display Power Management Function
Anti-Reflection Hard Coat Screen
Dual Display Function
Maximum 30 Meters Length of DVI-D Cable available
Strong, rugged construction, but light in weight
Passive 3D with Xpol®Polarization Filter
Built-in 3D Composer, Dual Inputs Interface (HD-SDI 2 ch)
Switchable between 2D and 3D
You want further information?
Feel free to contact us.
Service-Hotline: +49 (0) 2131 1230
E-Mail: medical@ikegami.de
Contact Form

MULTI-DISPLAY FUNCTION WITH SIDE-BY-SIDE AND PICTURE-IN-PICTURE
Two types of input images can be displayed simultaneously with Side-by-Side and Picture-in-Picture display mode.
VARIOUS GAMMA CHARACTERISTICS
Variety of Gamma setting can be set, including the Standard CRT Gamma of 2.2 and the DICOM Gamma.
HUE AND CHROMA SETTING FOR ALL KIND OF INPUT SIGNAL
Colour can be adjusted flexibly for user's favorite by Hue and Chroma.
ANTI-REFLECTION HARD COAT SCREEN
Anti-Reflection hard coat screen is installed as standard to reduce the effect of the reflection and to protect the LCD panel.
DISPLAY POWER MANAGEMENT FUNCTION
The chosen signal is not input for more than 30 seconds, the monitor automatically can turn OFF to save the power. The function can set ON/OFF.
USER MEMORY
Maximum four (4) settings can be set as preset. The parameter such as colour temperature, hue, chroma, gamma, R/G/B gain and display mode can be saved for each user or application.
MAXIMUM 30 METERS LENGTH OF DVI-D CABLE AVAILABLE
Signal compensation function is installed and the signal degradation is prevented. Then, maximum 30 meters length of DVI-D cable can be used with the monitor.
VESA MOUNT AVAILABLE
A variety of installation brackets for arms and walls can be chosen with the combination of VESA mount.
10-BIT SIGNAL PROCESS ENGINE
10-bit signal processing based on Ikegami image processing technology allows the smooth gradation of colour.
10-BIT LCD PANELS
Further smooth colour gradation can be achieved by processing 10 bit signal from signal input to display.
JAGGY-LESS I/P CONVERSION PROCESS
Ikegami unique Jaggy-less I/P conversion process enables the smooth and clear lines on the display.
APPLICABLE SAFETY REGULATION
UL6060-1, CAS22.2No.601.1, EN60601-1
EMC REQUIREMENT
FCC Class A, EN60601-1-2, CVVI Class A


DOWNLOAD PRODUCT BROCHURE

(905.2 KiB)

DOWNLOAD CATALOGUE MEDICAL 2017-2018

(993.8 KiB)

DOWNLOAD RATINGS/PERFORMANCE

(272.4 KiB)