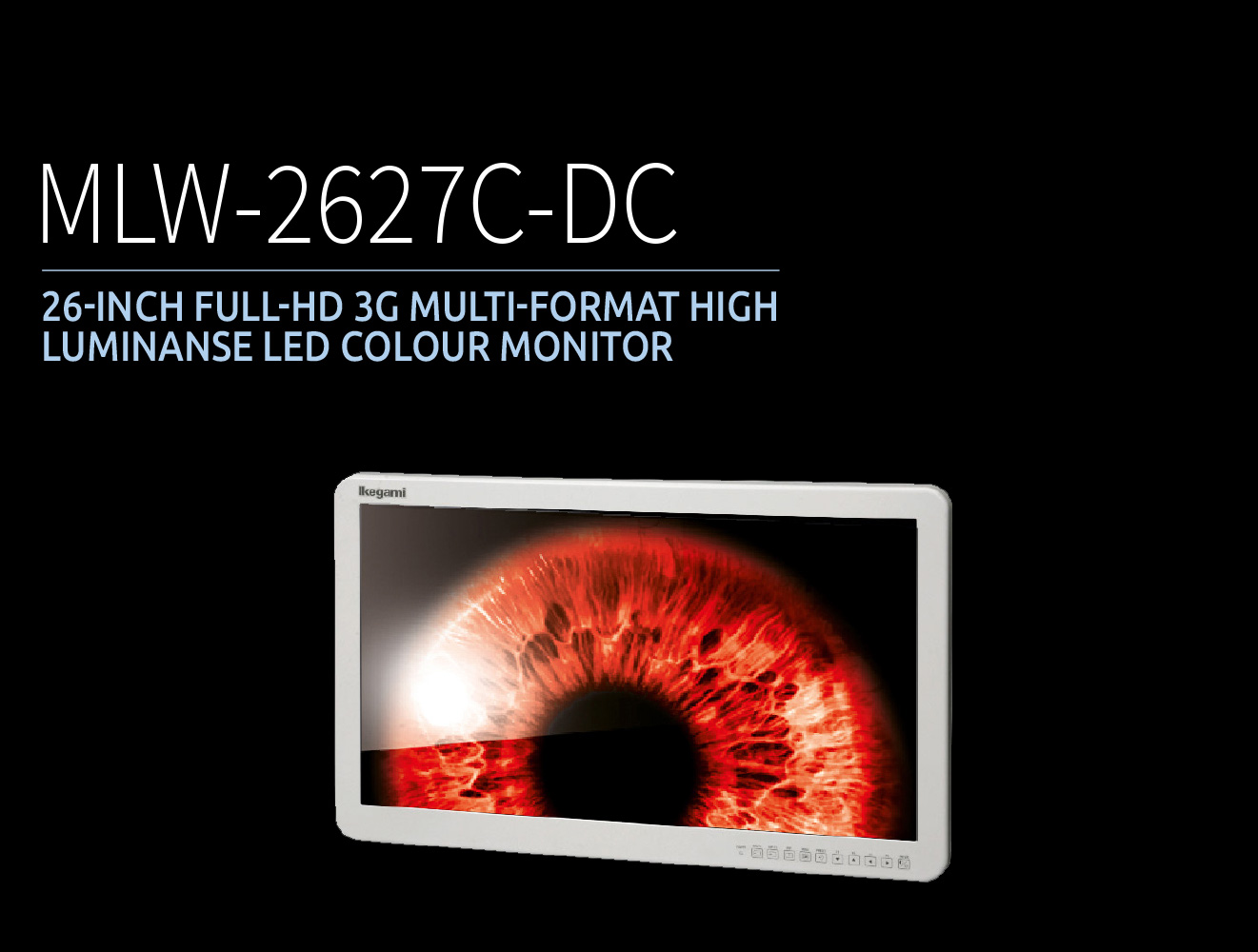 MLW-2627C-DC is a wide screen 26-inch LCD monitor with the high resolution 1920 (H) x 1080 (V) Full HD LCD panel, maximum intensity of 900 cd/m2 and wide angle of 178 degrees. Also, MLW-2627C-DC employs the touch switch control panel to improve the operability during operation.
Fully compliant with medical safety directives
New Full Flat design for Front panel
New IPS panel with LED backlight (900 cd/㎡)
High Resolution, True color display (1.07 Billion Color gradient)
Jaggy-less I / P Conversion Process
Multi display function
You want further information?
Feel free to contact us.
Service-Hotline: +49 (0) 2131 1230
E-Mail: medical@ikegami.de
Contact Form

12 BIT SIGNAL PROCESS ENGINE
12-bit signal processing based on Ikegami image processing technology allows the smooth gradation of colour.
10-BIT LCD PANEL
Further smooth colour gradation can be achieved by processing 10 bit signal from signal input to display.
178 DEGREES HIGH CONTRAST VIEWING ANGLE
LCD panel based on IPS technology is employed for 178 degrees high contrast viewing on UP/DOWN/LEFT/RIGHT. This characteristic prevents from intensity and colour shift by the viewing angle.
FLIP FUNCTION
Images can be flipped horizontally and vertically, allowing the correction of image inversion caused by the optics.
AUTOMATIC CONTRAST ADJUST FUNCTION
Based on brightness on the image, monitor will be able to expand each dinamic range of black and white automatically.
PICTURE AND PICTURE, SIDE BY SIDE
SDI signal input can be combine to show as P in P or Side by Side with other signal input (DVI-D, S-Video, Component, RGB or Video).
DYNAMIC IMAGE CONTRAST ENHANCER
By calculating the brightness of the entire screen and extending the dynamic range between white and black in real time, automatically optimized black level and high contrast are achieved.
USER SETTING MEMORY SWITCHING FUNCTION
Colors, brightness and other image quality-related settings are user-adjustable for eight different groups. They are readily switchable.
STILL IMAGE
It is possible to check a still image against the current video. The input video and memorized still image can be compared on the screen.
NO VENT STRUCTURE
This monitor is cooled by air convection without vents and fans which allows easy cleaning.


DOWNLOAD PRODUCT BROCHURE

(864.3 KiB)

DOWNLOAD CATALOGUE MEDICAL 2017-2018

(993.8 KiB)

DOWNLOAD RATINGS/PERFORMANCE

(220.3 KiB)