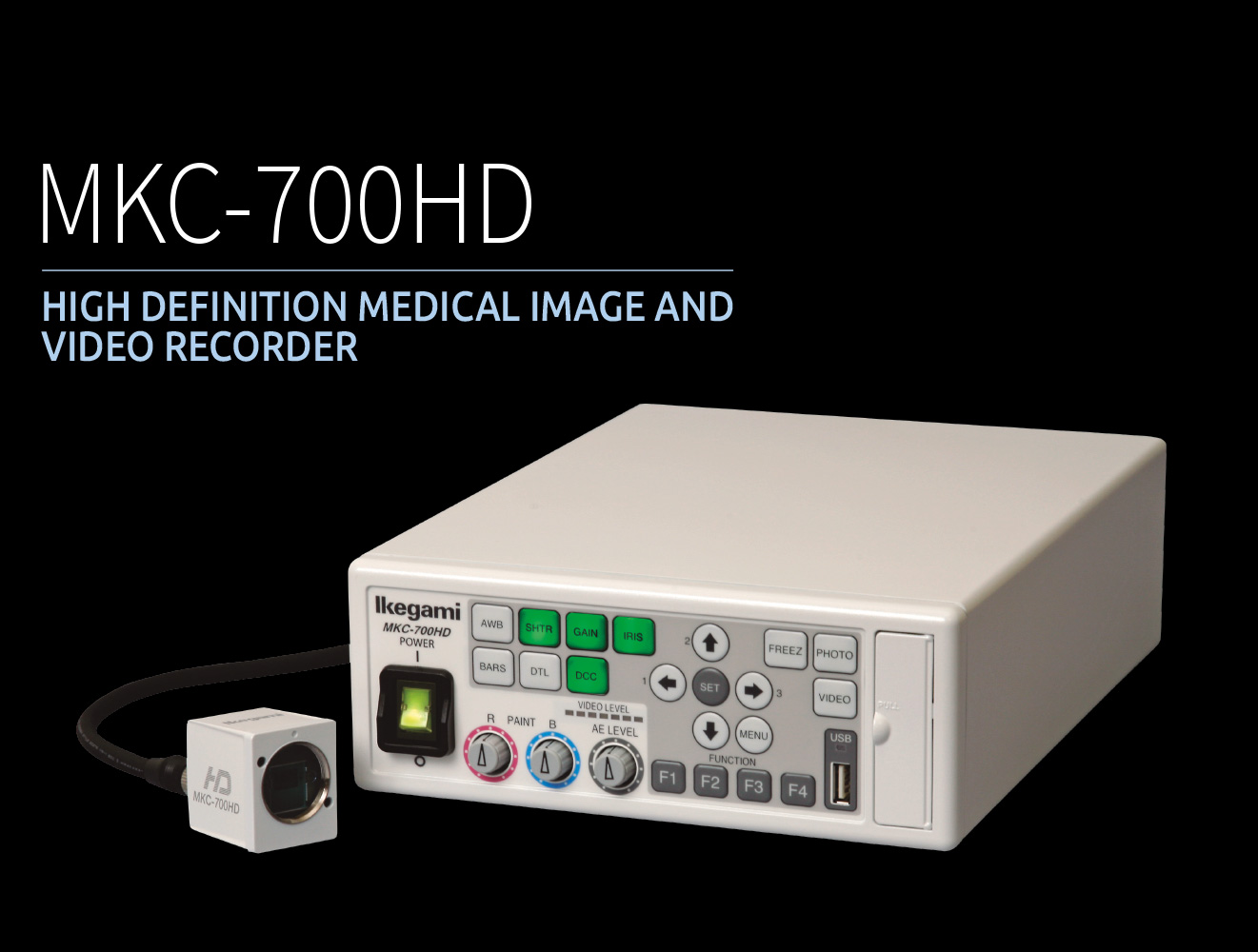 Ikegami has developed a new high-end medical grade camera which is used for surgical microscope, shadowless lamp, including the operative field camera system. It has a progressive scan Full-HD 3CMOS that can take advantage of a variety of medical situations.
High quality Image
High Sensitivity
Indocyanine Green (ICG) Mode
Full-HD 1920x1080 Video and still Image Recording
FTP Server Function for Downloading the File
Scene Files
Flip and Turn Function
Anti-biotic Coating
You want further information?
Feel free to contact us.
Service-Hotline: +49 (0) 2131 1230
E-Mail: medical@ikegami.de
Contact Form

SMALL SIZE OF CAMERA HEAD
The camera head employs the compact design on the sensor block with the special optics and achieves the small size (W34 x H40 x D40mm).
HIGH QUALITY IMAGE
The camera equips the latest 1/3-inch CMOS sensors and it performs 1000 TV lines horizontal resolution and 56dB of S /N ratio. The camera can provides a variety of signal output with analogue HD Y Pb Pr, digital HD-SDI, DVI digital (1920x1080 i/p) and SDTV signals (VBS, S-video and RGB).
HIGH SENSITIVITY
The camera offers the highest sensitivity on HDTV medical grade cameras with F16/2000lx. And it equips the high sensitivity mode and it performs the double of standard sensitivity.
INDOCYANINE GREEN (ICG) MODE
With the combination of Ikegami microscope adaptor, CVA-300RI, the camera can be used for ICG application.
FULL HD 1920 x 1080 VIDEO AND STILL IMAGE RECORDING
It is effective for the operation of a limited space. Because the CCU part of a small USB terminal is equipped, you can easily record video and still images in a general-purpose recording media
FTP SERVER FUNCTION FOR DOWNLOADING THE FILE
By connecting the unit to network, image file can be downloadable.
SCENE FILES
4 patterns of setting can be saved and loaded as scene files. It can be easily adapted according to the conditions. The scene files setting can be saved to an USB memory and loaded from it.
FLIP AND TURN FUNCTION
The captured images can be flipped horizontally and vertically. It is useful for the correction for the image inversion caused by the optics. It is controllable externally.
ANTI-BIOTIC COATING
The camera head and CCU utilizes an anti-biotic coating to help infection control.
ACCESSORIES
DUAL FOOT PEDAL


DOWNLOAD PRODUCT BROCHURE

(1.0 MiB)

DOWNLOAD CATALOGUE MEDICAL 2017-2018

(993.8 KiB)

DOWNLOAD RATINGS/PERFORMANCE

(2.0 MiB)