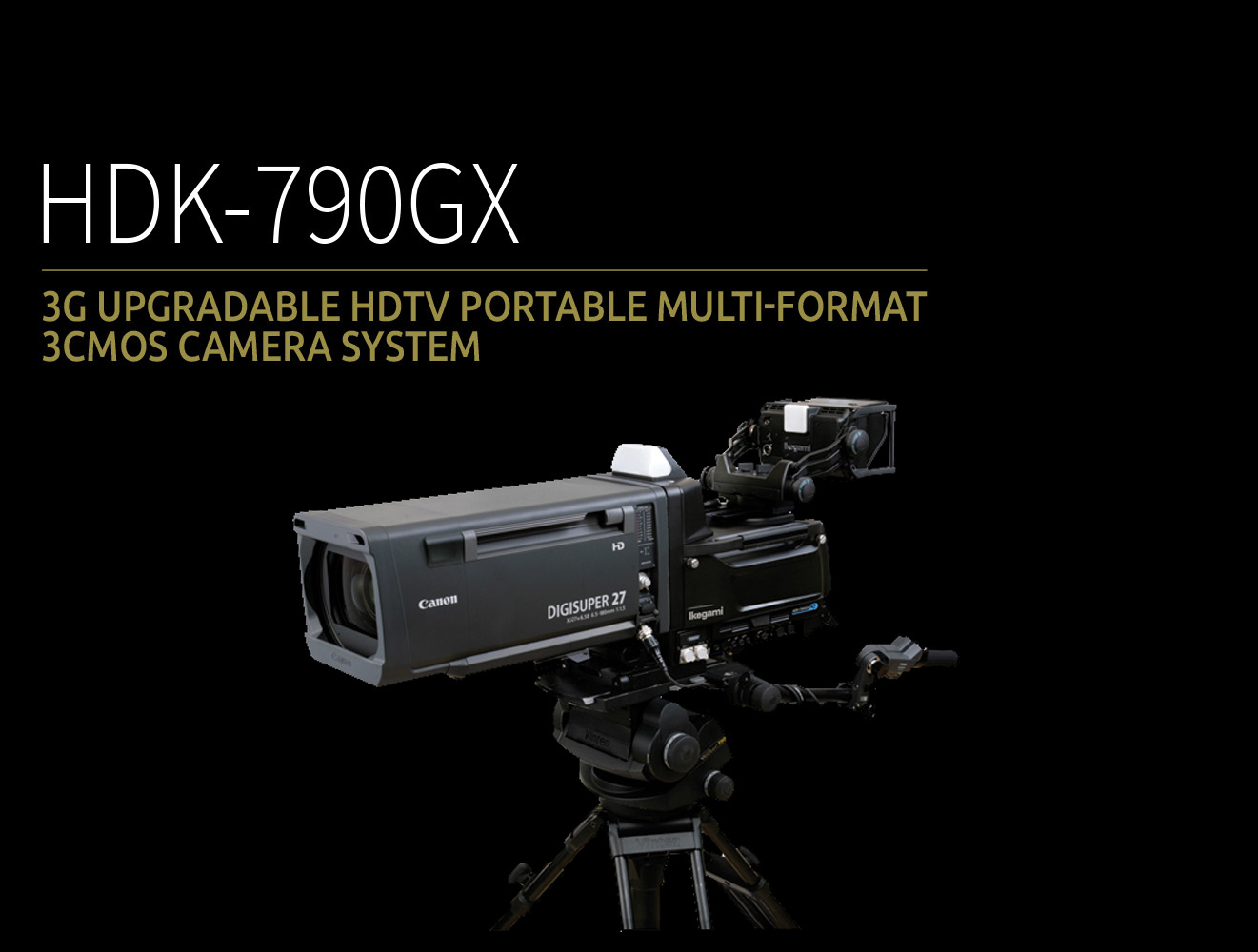 The HDK-790GX is a state of the art full digital HDTV Camera with superior picture quality and high reliability for studio and field HD production. It reproduces the outstanding performance of Ikegami's obsolete EX-series and adds new features and accessories associated with the Unicam HD.
2/3-inch 2.3 Megapixel AIT CCD
Newly developed FPGA with advanced full Digital Process ASIC
Advanced Features made possible with digital Technology
Digital Extender
Built-in Triple Layer Filter (ND / EFF / ECC)
2 Channels Q-TV
HD-SDI Trunk
Lens Aberration Correction Function
Camera Operator Assist Functions
You want further information?
Feel free to contact us.
Service-Hotline: +49 (0) 2131 1230
E-Mail: broadcast@ikegami.de
Contact Form

2/3-INCH 2.3 MEGA PIXEL AIT CCDs
Three 2/3-inch 2.3 Mega pixel AIT CCDs are employed to achieve 1000 TVL horizontal resolution with high signal to noise ratio of 61dB at F11 (in 1080i).
NEWLY DEVELOPED FPGA WITH ADVANCED FULL DIGITAL PROCESS ASIC
The HDK-790GX incorporates a newly developed FPGA together with advanced full digital process ASIC to achieve outstanding picture performance.
NATIVE SUPPORT FOR 23.98P
The camera supports not only 23.98Psf, but also 23.98P in native (Option).
VIDEO PROCESSING TECHNOLOGY TO MAXIMIZE THE BENEFIT OF16-BITS
This camera is designed from the start based on 16-bit A/D and matching 16-bit DSP to maximize the benefits of high bit quantization. Especially for the dark areas of the picture, the higher gradation for gamma and other circuits improves the reproduction, providing for more natural color in the shadow areas of the picture.
ADVANCED FEATURES MADE POSSIBLE WITH DIGITAL TECHNOLOGY
Advanced features such as Master Gain Control, Variable Color Temp., Custom Gamma functions are incorporated.
DIGITAL MAGNIFIER
There is the selection of x1.5, x2, x3, x4 digital extender available to enlarge the image at the center of shot without any loss in image sensitivity.
BUILT-IN TRIPLE LAYER FILTER (ND/EFF/ECC)
The triple layer filter system can be remotely controlled from OCP/MCP. The three layers are ND (100%, 25%, 6.2%, 1.6%), EFFECT (Clear, Cross, Snow, Fog) and Electronic Color Compensation (ECC: 3200K/4300K/ 5600K/6300K/8000K).In addition, there is Variable Color Temp. function that enables the camera operator to continuously vary the color temperature from 2,000k to 20,000k for easy and precise adjustment.
2 CHANNELS QTV
Two channels of QTV output (VBS) are available at the camera for prompter and external monitoring purposes. * BS/CCU should support 2 channels of QTV.
HD SDI TRUNK
When the camera is operating with CCU-970M, the system allows 3G (1.5G x2) transmission from the camera head to the CCU, and a second 1.5G video can be transmitted to the CCU as a video trunk channel.
LENS ABERRATION CORRECTION FUNCTION
The Lens Aberration Correction Function is newly incorporated for minimizing the loss of resolution and colored edges caused mainly by lens chromatic aberration.
CAMERA OPERATOR ASSIST FUNCTIONS
There are two types of camera operator assist functions incorporated in the HDK-790GX camera head.The viewfinder detail(VF DTL) function allows the camera operator to increase the detail edges to the viewfinder video for easy-focusing. In addition, the Quick EZ Focus (Focus Assist) function is a newly incorporated useful tool, providing very distinct enhancement to the viewfinder signal to enable the camera operator to make critical focus adjustment.
SOPHISTICATED CAMERA CONTROL PANEL SYSTEM
There are two types of camera control panel systems, each with a wide range of camera control capability. The conventional OCP allows direct and quick control of various camera parameters using dedicated buttons on the panel.The OCP-200 / MCP-200 Network based control panel system allows any OCP to control any camera with assignment set at the OCP itself. System wiring is simplified with control of up to 100 cameras via a single coax cable between CCU locations and video control locations. The OCP-200 and MCP-200 include touch screen LCDs. The depth-of-control of the OCP-200 can be selected from basic to complete to fit the customers' operating discipline.Conventional one by one camera control connection is also available with the OCP-200.


DOWNLOAD UNICAM HD CATALOG 2019

(3.1 MiB)

DOWNLOAD RATINGS/PERFORMANCE

(1.9 MiB)